JYJ3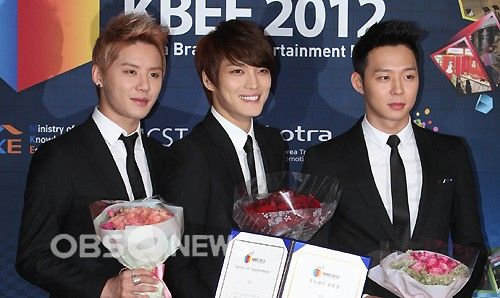 JYJ will depart for Japan to attend the official opening ceremony of the Korea-Japan Exchange Exhibition on the 15th.
JYJ, appointed last Sept 17 at the KOTRA headquarters, will start to do full-pledged activities as ambassadors for KBEE. Their first public activity is to take part in the 2012 KBEE on Nov 14-16 to be held in Osaka.
Despite their busy schedule, JYJ found the time to do their role as ambassadors. Kim Jaejoong is busy promoting his new movie "Jackal is Coming' that will released on the 15th. Park Yoochun is busy filming for his drama 'I miss you'. Kim Junsu is busy doing preparations for his Germany concert on the 30th.
JYJ will attend the opening ceremony together with singer Park Hyo Shin but JYJ will not participate in the K-pop congratulatory stage. (Note: JYJ can attend as ambassadors but not as singers)
On the other hand, JYJ, as…
View original post 263 more words